Dental Health Program Mobile Clinic
Cab And Chassis Specifications
Year and Model: 1997 Chevrolet T.8500- Tilt Cab – Clinic Mfg. Medical Coaches Inc.
Engine: Caterpillar 3116 Diesel-6.6L, 215 H.P.
Current Mileage: 51,000
Transmission: Allison MD-3060P 5 Speed Automatic
Wheelbase: For 32' Body 284 Inches
GVWR: 54,600 (CDL License required)
Front Axle: 14,600lbs.
Rear Axle: Single Speed 40,000 lbs. Tandem Single Speed
Brakes: Full Air Brakes, Cam type
Alternator: 100 Amps
Steering: Power
Batteries: Dual 12 Volt 1500 CCA
Suspension: Neway AD-246 H.D. Drive Axle, Air Suspension
Shock Absorbers: Front
Tires: 11R22.5 50% average tread depth remaining
Cab Seating: Driver and passenger w/folding center seat
Glass: Tinted
Gauges: Voltmeter, Air pressure, Water Temp., Fuel, Oil Pressure, Speedometer, Tach
Windshield Wipers: Two speed intermittent w/washers
Fuel Tanks: Dual 50 gal.
Frame: Reinforced
Armrests: Driver and Passenger
Sun Visors: Driver and Passenger
Color: White
Included Options: AM/FM radio/cassette, cab air conditioning, rear view T.V. (backup), engine block heater
Dental Clinc:
Interior: Two Dental Operatories, and One Reception/Waiting Room
Length: 31 ft. 6 inches
Width: 8 Feet
Height: 6 Feet 10 inches
Wheel Chair Lift: REB hydraulic powered 12 volt model 8033A – 600lb Capacity
Reception Area:
Built in desk with center drawer and two drawer file cabinet with lock. Built in Patient
lounge seat with backrest and storage under lift-up seat. Overhead storage cabinets with locking device. AM/FM/CD radio with individual controls and speakers for operatories. TV/DVD player for videos. Reception area separated from two operatories by floor to ceiling partitions with access through doors with windows and louvers all lead lined according to USFDA Regulations. Electronic monitoring gauges for fresh water and waste water holding tanks. Electronic switch to lock/unlock exterior storage areas.
Two Dental Operatories:
Installed Dental Equipment:
MDS Matrix AM/AMD air compressor
ADEC assistant's stools #1626
ADEC Doctor's stools #1601
Midmark M11 Ultra Clave
Steri Dent Central Vacuum
A-Dec 1011/1021 Dental Chairs
A-Dec 6300 Dental lights
A-Dec Dental units
Wall mounted x-rays
Instrument Cabinets (stationary under counter)
Ultra Sonic Cleaner
Star-X view boxes
Utilities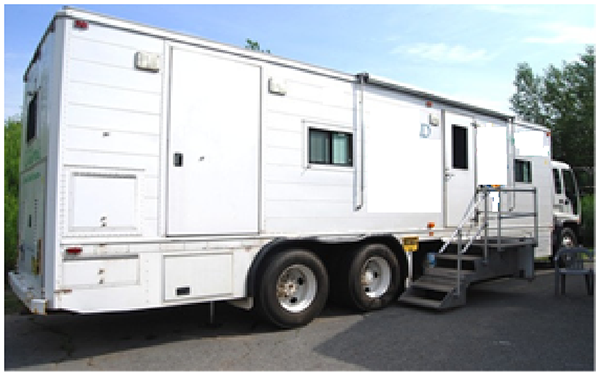 Electrical System: Wired to receive 4 wire, 120/240 volt, 60 hertz, AC, Single phase, 100Amp from generator or local power source via lead-in cable (shore line). A 75 ft. shore line is provided with a 12 V auto retrieval system.
Generator: Kohler model 30ROZJ61-30KW-1 phase-120/240 volt, 60 hertz 4 wire liquid cooled generator powered by John Deere Diesel engine. Hours 429.5.
Wiring: (1) Circuit breaker panel w/120 volt circuits for utility equipment, lights, AC, and receptacles.240 volt for electric heating units.
Lighting: Standard fluorescent light fixture surfaced mounted with diffuser panels. In addition 12 VDC dome lights are provided as emergency lighting in rooms and skirt compartments.
Heating and Plumbing System: Coleman roof mounted heat, AC units. 5600BTU heat (120volt), 13,500 BTU cooling (120 volt)
Electromode down flo wall mounted heaters (240volt), 200watt, 6830 BTU
Side Compartment heaters-750/1500 watt, 120 volt, thermostatically controlled. One for fresh water tank and one for waste water tank.
Plumbing
40 gal. fresh water tank..
50 gal. waste water tank
6 gal. Electric hot water heater.
Campbell water filter.
Shur-Flo model 2088 water pump.
Shur-Flo model 181203 Accumulator.
Air pressure gauge #107903.
Stainless Steel sinks with foot controls.
Norcold 4 cu. Ft. dual voltage refrigerator.
General Specifications and Equipment
Power Gear hydraulic stabilizing jacks with side compartment controls.
Guest model 2515 C-B 15 Amp. Battery charger for two 12 volt batteries.
Intrusion alarm system.
Zip-Dee outside awning
Sliding glass safety windows w/insect screens and interior blinds.
Emergency exit window located at rear of clinic.
*Counters & Cabinets: Formica surfaced. All cabinets are fitted with push button locking devices for travel.
*Floor: Surfaced with heavy duty cushioned vinyl linoleum.
*Ceiling: Surfaced with Wood Fiber Industries "Modulux" hardboard panels painted
*Insulation: Insulated on sides, ends, floor and ceiling with foamed in place urethane.
*Walls: Interior walls are lined for full width and length with ¼ inch laminated panels.
PM service performed on engine, chassis and generator